The supermarket sector has been somewhat static over the past ten years, with little of the groundbreaking innovation in the UK and in parts of Europe since the beginning of the 2000s.
This is certainly the case in the UK. The big supermarkets seem to be permanently stuck in a price war, with precious little interest in improving the in-store experience of their formats.
So it is very refreshing to see Alibaba rapidly expanding its new online-offline retail superstore chain, Hema, throughout China. It is also refreshing to see another brand, Loblaws in Canada, injecting some passion into traditional supermarket design with what we think is a vibrant Hypermarket concept.
Hema brings convenience to new heights by offering in-store picking for online purchases, with delivery in 30 minutes for customers within a three-kilometre radius of the store, as well as a cashless in-store payment system via Alipay. That's right no cash transactions instore!
Why is Hema innovative?
1. It has become an integrated retail store and fulfilment centre, streamlining operations while maintaining and improving the overall customer experience within the supermarket.
2. It redefines convenience and the term "one-stop" shop. Not only can customers buy fresh produce and seafood, but they can also dine-in store "or" have a lobster cooked in-store before shopping is completed, ready for in-home consumption. This concept brings customers back to the store repeatedly, creating stickiness and customer loyalty.

3. Active customer engagement and mobile integration with the shopping experience. Customers can use their mobile devices and scan the items they want to buy when they are in-store.
4. Via the mobile app, the store can provide recommendations and suggestions to the customer to guide selection among other similar options. Each of these selections can be placed in the virtual shopping cart and e-payment and delivery of their groceries to a consumer's home within 30 minutes can be arranged.
Hema stores are growing rapidly in China.
The concept has three pillars to its strategy. Serving as a place to shop in person, a distribution centre for online orders and a place to eat. It's hoping to define what the future of grocery retail will look like.
One of the first things you notice in-store, apart from the store design and layout, is the super fresh departments and product quality, is the price ticketing. Every price ticket has a barcode, you can scan the product barcode and see the price of the item online using the app. You can also see reviews of that product.
The price tags are a special technology, allowing the retailer to instantly change the price of all or any item from the back office in real-time and at any point during the day. That's not all you can see, the date when the product was delivered to the store and where it comes from. You can also see a government certificate proving it is organic.
The app gives you delivery options if you decide not to buy in-store.
Members of staff can be seen in-store filling online orders, using a handheld scanner and a bag to pick the products. After which the staff member puts the bag on a conveyor belt which then takes it via the ceiling to the back areas of the store, where it will be dispatched for delivery to the customer.
So, Hema in effect is not only a retail store but a distribution centre.
Any visitor to Hema will notice a lot of sampling stations throughout the store. In this respect, it's like a Cosco with sampling stations located everywhere.
At some point, you ask yourself the question. Why come to the store when everything is online? Well, one reason why Chinese consumers prefer to come to the store is for seafood, as it is very important for Chinese consumers to check the freshness of the product they are about to purchase and believe me there is a lot of seafood live in tanks too check.
When you have finished and wish to checkout, you proceed to the self scanners. Using the Hema app, which is connected to Alipay, all the customer has to do is swipe their phone in front of the scanner, the funds from your purchases are calculated and immediately debited from your bank account. And that is pretty much it. There isn't a traditional cash point staffed by a representative in the store.
If you wish to eat in-store and get a table in the restaurant, you can check-in at a kiosk by using the app. From this point, you receive a ticket with a barcode and will be assigned a table. Once you reach the table, you scan the barcode and from there you can just start placing your order on your phone via the app.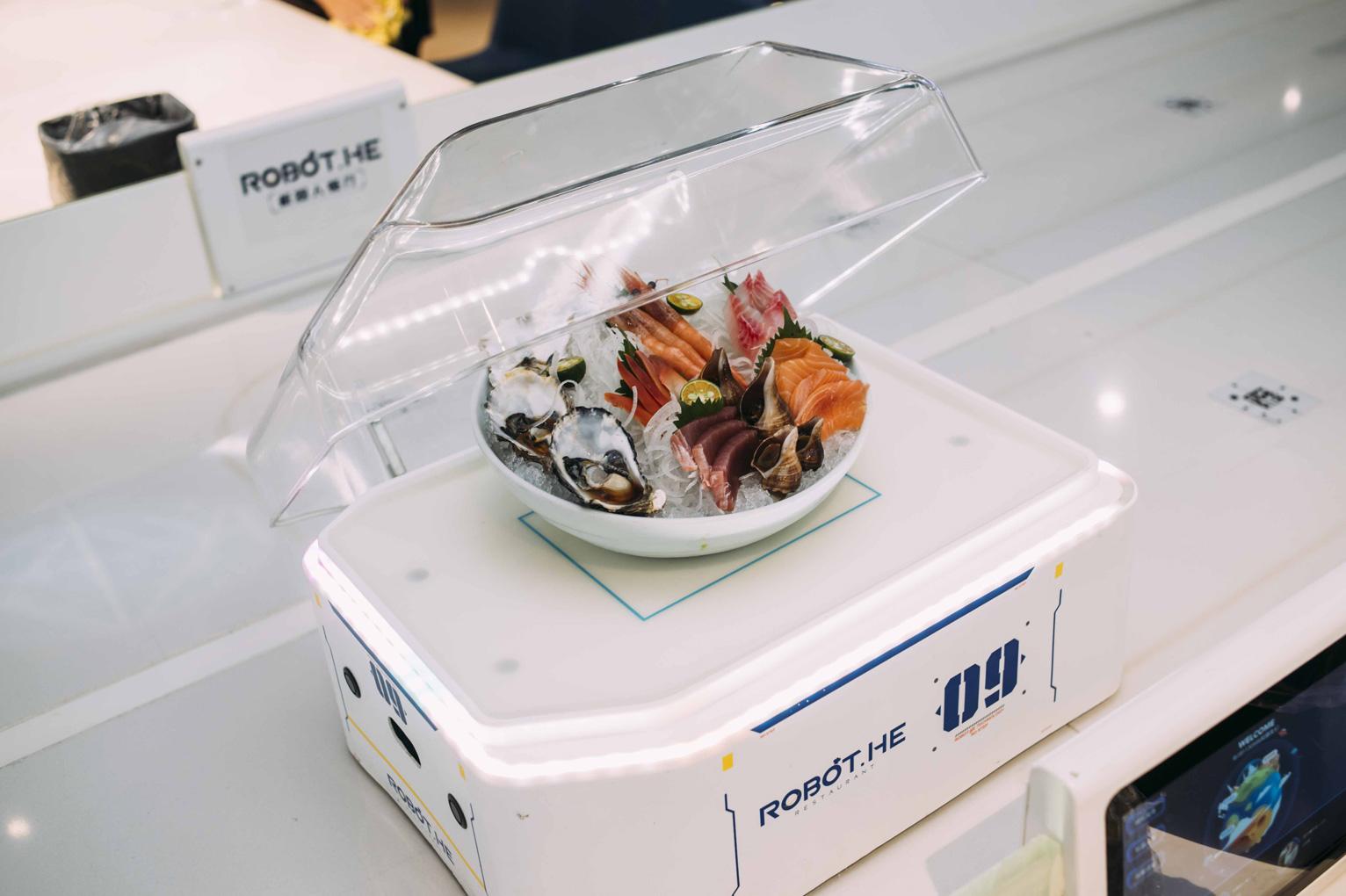 Externally, it doesn't feel all that different from the more advanced Japanese sushi conveyor belts where customers order at screens embedded somewhere on the table. But the internal mechanics os the technology system goes far beyond that. Everything is done through the Hema app, the same one used to check-out in the supermarket.
So you're not waiting for anyone to come to the table and take your order with pen and paper and deliver it to the chef's kitchen back-of-house. Then from there, the table robots deliver your food from the chef's kitchen.
The food is very fresh, most of the fish are alive when you select it and the preparation, while hardly groundbreaking, is solid. The menu leans towards Cantonese; the non-fish dishes are of various char-siu recipes and there's a small selection of dim-sum. It's not overly expensive.
Payment is taken automatically. Once you are finished eating, you can take your shopping and continue your homeward journey.
Why is the traditional superstore of Loblaws innovative?
The Loblaws' concept store is in stark contrast to Hema in China and UK grocery retailing, branding, communication and store design, which has lacked the creative design and expression evident at Loblaws.
Loblaws at Maple Leaf Gardens, a truly sophisticated superstore creation.
What stands out from the interior merchandising of the store is the focus on fresh food and freshly prepared food theatre.
Loblaws refer to the concept as "a theatre of food."
There is an impressive deli counter containing refrigeration with a dry-aged beef display. You will find everything from pancetta bacon to Italian salami and the chance to sample succulent top sirloin from Beretta Farms.
The vast fruit and veg section includes exotic produce like cactus pads, aloe vera leaves and tamarind pods.
The department signage around the perimeter is distinct and bold, occupying 2.5 metres of wall space above the merchandising display.
The aisle signage boldly differentiates the product categories. The aisles are spacious and conveniently planned to make the shopping experience as convenient as possible.
if you are feeling hungry, there is a 100-seat food court with coffee, tea and sushi bars, a superbly prepared fresh food section with salads, soups, chilli, sandwiches, subs, chicken, steak fritters, burgers, pizza, panini and pasta.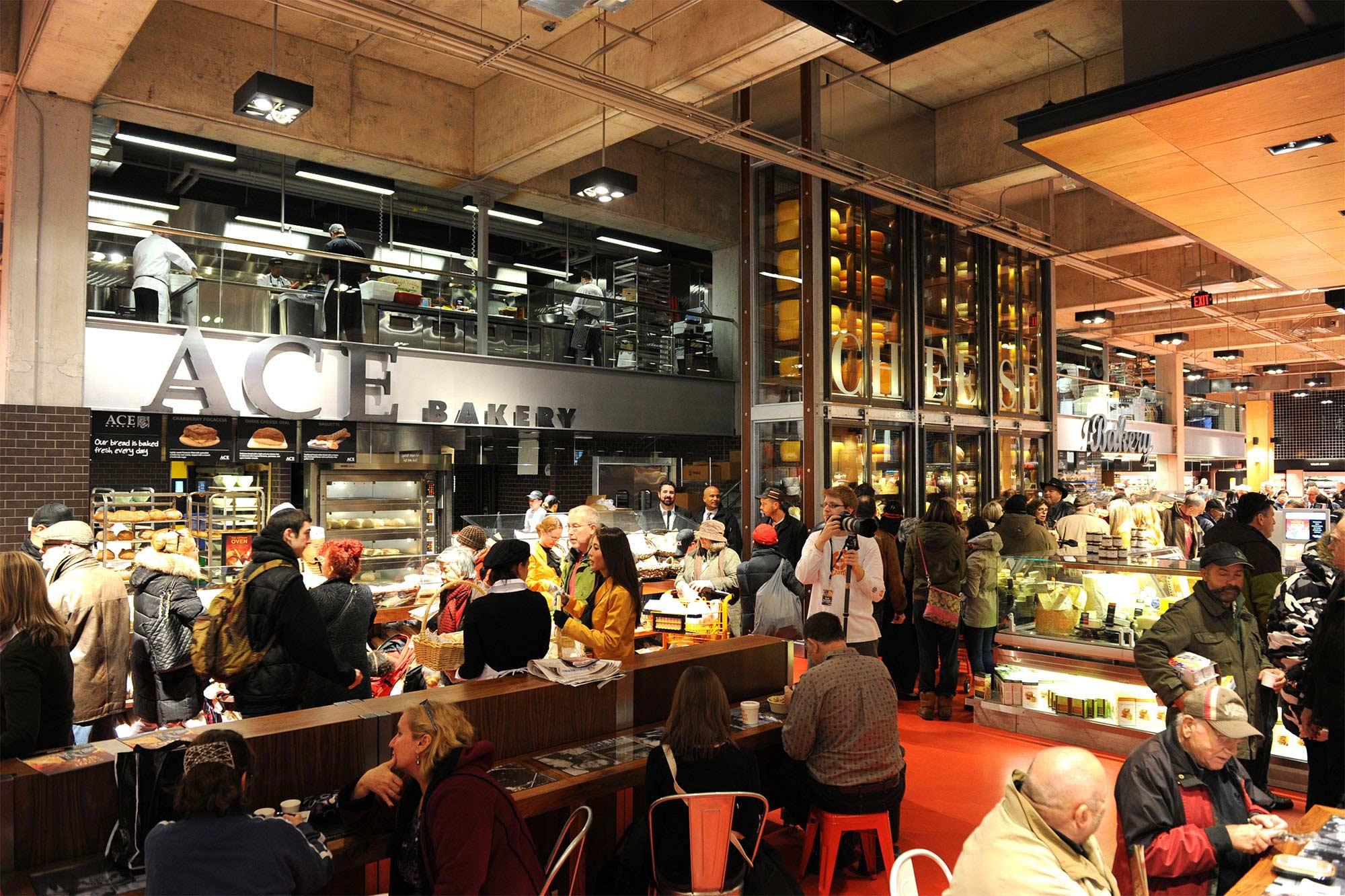 You will discover a specialist full-size artisan Ace Bakery and 14 instore chefs producing the freshest and best of East and Western cuisine, with a wood-fired pizza oven and sushi kitchen to eat-in or takeaway, a tea emporium, canteen and grill hot foods.
There's an amazing 18ft wall of cheese and tons of eating points. There's even a cookery school. Simply, a mouth-watering awesome design concept.
Shoppers in need of refreshment can order fresh-squeezed kale juice from the dedicated juice bar, a cup of tea from the tea emporium, or an Italian espresso from the standalone Lavazza coffee bar.
Maple Leaf Gardens general statistics:
1. 85,000 square feet
2. A grand wall of cheese with 450-plus varieties of local and international cheeses from which you can select
3. 100-plus organic produce items from local farmers
4. Sushi bar where in-house chefs craft sushi rolls to order
5. Tea Emporium outlet
6. In-store stone oven for on-site bread baking
7. A delicatessen contains a typical array of products, as well as a dry-aged beef wall, where customers can age a steak before taking it home
8. Self-serve seafood counter
So it's a great grocery store, one that's being touted as a place to find lots of locally sourced products.
Convenience, inspiration, value for money are three distinct value propositions Loblaws' the grocery retailer has embraced.
For retailers to hold their own against aggressive competitors, grocers must build a distinctive offer that emphasises one or more of the three value propositions that have resonated with today's consumers and Loblaws goes some way to achieve this outcome.
The Wall of Cheese is located inside the store opposite the deli, to say the least, "it is impressive". A staggering 18-foot high fridge filled with over 400 types of cheese from all over the world, with an emphasis on unique local Canadian cheese. It is one example of innovative retail displays that transform the shopping experience and invite the consumer to indulge in the product offering and enjoy the splendour of the department.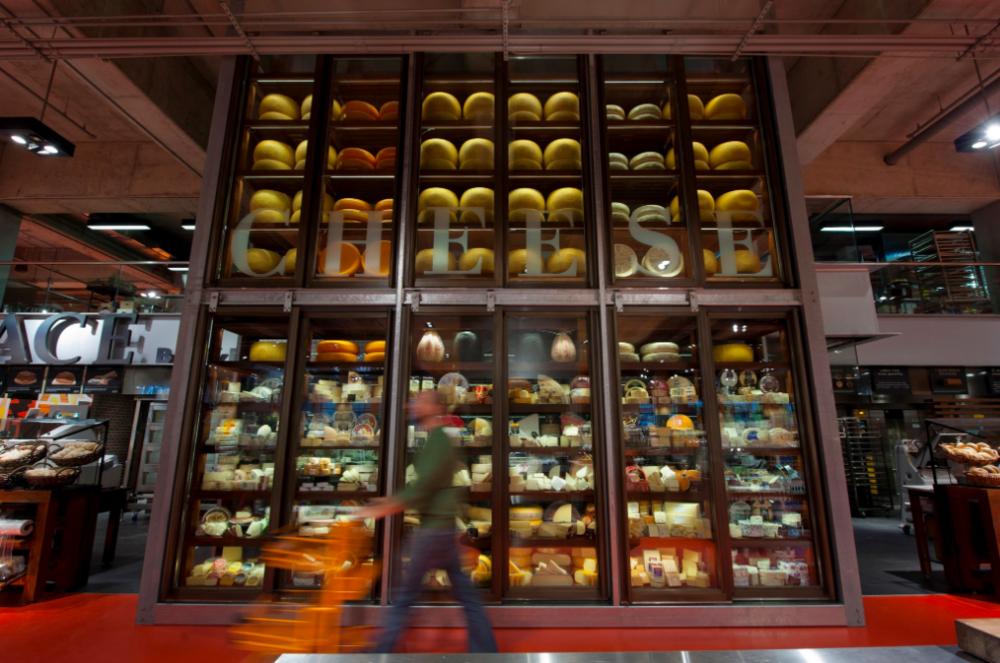 The Loblaws Cheese department is an experience and one that reflects the indulgent shopping experience that many high-end grocers are attempting to create for the discerning consumer.
As many customers find themselves doing grocery shopping in a rushed, haphazard manner, it's possible to add interest to the experience so that they take a moment to enjoy the depth and range of products.
Ultra-convenience is partly about having store locations that are easy to get to, such as in a local high street with parking facilities or in a residential neighbourhood. But location is only one aspect of convenience. Retailers should strive to make every part of the shopping experience more convenient, while maintaining standards of quality, far above typical 7Eleven convenience-store standards.
A grocery store assortment might include ready-to-go items, freshly prepared foods, meal kits solutions, a scratch bakery, delicatessen and loose organic locally sourced and exotic fruits and vegetables for shoppers looking for meal solutions. It might also provide self-service options, express checkouts, home delivery and other in-store services, such as dry cleaning or click and collect.
This brings me to my final point on ultra-convenience retail, the technology for cashless instore payment systems and tracking via the branded store app has arrived and it is only a matter of time before it becomes the retail norm.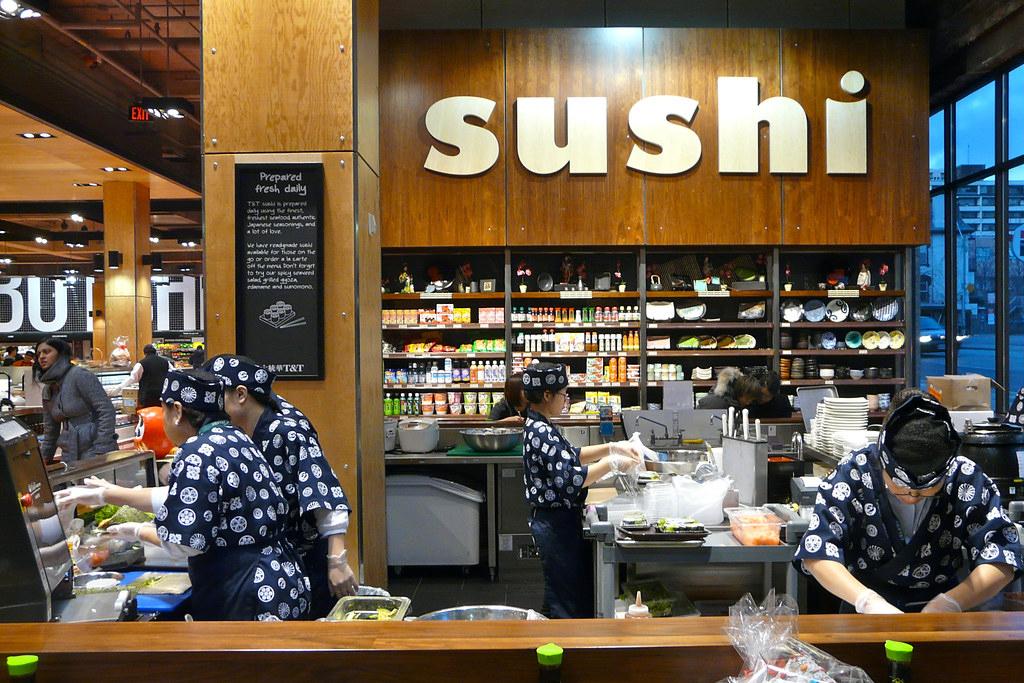 Our internal process of renewal, allows us to continually benchmark and write about the best in class branding and design in many market sectors across the globe. The images in this article have been taken from the web and are attributed to other brand consultants.
Please take a moment to review other news items linked to this page.

Why not call and talk to us about your brand, design or change programme, digital and social media requirements.