Retailers in the USA announced plans to close more than 9,300 stores in 2019, more than any other year in recent retail history. The situation in China is completely different, where Internet giants are breathing new life into physical stores, including supermarkets, malls and Mom and Pop shops. China has a term for this new trend: online-to-offline.
E-commerce players are realising the limits of a pure-play online model in some segments and are establishing a physical store presence. High-street retailers need the tools of e-commerce and are obtaining them by partnering with pure-play tech businesses. Alibaba has invested over $9 billion in brick-and-mortar stores since 2015.
Alibaba's Hema supermarket interior design has the appearance of regular supermarkets with plenty of fresh food on display. But they operate quite differently.
Shopping at Hema is a smartphone-powered brand experience, you can do it from home or in the store. When you're in the store, you're able to scan a bar-code with your phone to get product information. Payment is also cashless, done through the Alipay platform embedded in the Hema app. Among Hema's attractions is the ability to choose your own fresh seafood and decide whether you want it to go, raw or cooked, or have it prepared to eat in the "grocerant" (The in-store grocery restaurant).
The 7Fresh store is a direct competitor of Hema, it combines the offline shopping experience with JD.com technology and back-end systems. JD uses customer profiles to determine optimum store locations and layouts, as well as data analysis to inform inventory management to ensure each store has the most relevant products for the area and customer base.
JD recently announced it will launch 1,000 new 7Fresh stores in China. The product offering is very similar to JD's rival Alibaba's Hema supermarkets, which also provide offline shopping experience with online capabilities as well as a 30-minute delivery service.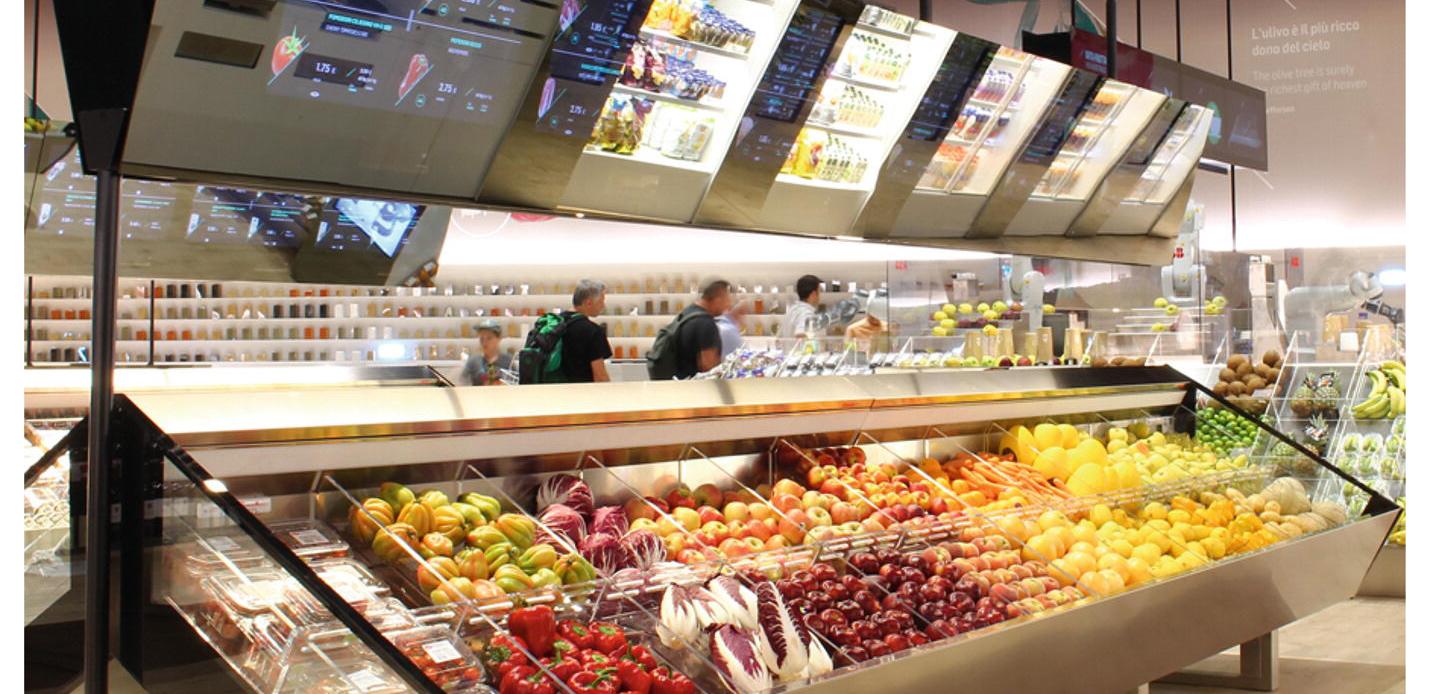 The stores also feature 'Magic Mirrors' which provide product information on a screen when they sense that customers have picked up fresh produce.
7Fresh redefines the offline retail experience by combining the best parts of fresh grocery markets and top-quality restaurants with cutting edge e-commerce technology. With the expansion of 7Fresh into more cities across China, JD.com brings 'Boundaryless Retail' to even more shoppers for an incredibly convenient and enjoyable way to buy fresher, safer and more reliable products."
More than just a supermarket, at Taste the management team wants to inject fun and excitement into the daily grocery shopping experience of Hong Kong's sophisticated and cosmopolitan consumers.
The bright and contemporary stores reflect a commitment to deliver "More Than Food", with a range that spans fresh and ready-to-eat food, an in-store bakery, imported specialist items, a wine cellar, household goods and gifts, and even fashion and luxury accessories.
As part of Taste's new generation of food and lifestyle retailing, the management team is dedicated to providing world-class service. In addition to home delivery, baby-care and carry-to-car services.
Our internal process of renewal, allows us to continually benchmark and write about the best in class branding and design in many market sectors across the globe. The images in this article have been taken from the web and are not attributed to Campbell Rigg. They are attributed to other brand consultants.
Please take a moment to review other news items linked to this page.

Why not call and talk to us about your brand, design or change programme, digital and social media requirements.