A UK financial retailer acquired by Santander. Branch design and brand communications.
Santander Abbey Bank window branding.
Branding and interior design for multiple branch formats. From a small volume convenience offering to a large volume high street branch.

Our services encompassed rebrand, sub-brand, reimagining formats, segment planning and environment design. How to create a sustainable base going forward.
Learn more about the project
Our work streams covered six branch formats, various customer segments and transaction types. Each format fulfilled a different function for the bank.
Safeway Stores plc tasked our brand team to design their Megastore supermarkets. Their Milton Keynes store included an in-store bank, "Abbey National at Safeway".
The strategy for in-store banking at Safeway hypermarkets is a very simple one.
It revolves around convenience and the implicit understanding that access no longer means convenience but rather time-earning. This leads us to conclude that time-earning is about search, possession, and transaction time.
Some bankers view in-store banking as a "deposit gatherer" and that's all that they worry about. Most banks don't think branches in supermarkets are sexy enough because you can't sell commercial loans, trust, and investment management. The beauty of in-store banking is that it brings banking to the consumer. The question: 'Am I going to two places to bank and shop or just one?' Inevitably a customer will choose the time-earning solution. The winners in the in-store banking business focus on a core set of behaviours that lead to the ongoing acquisition of new customers and cross-selling to those customers.
Fast bank branding and interior design.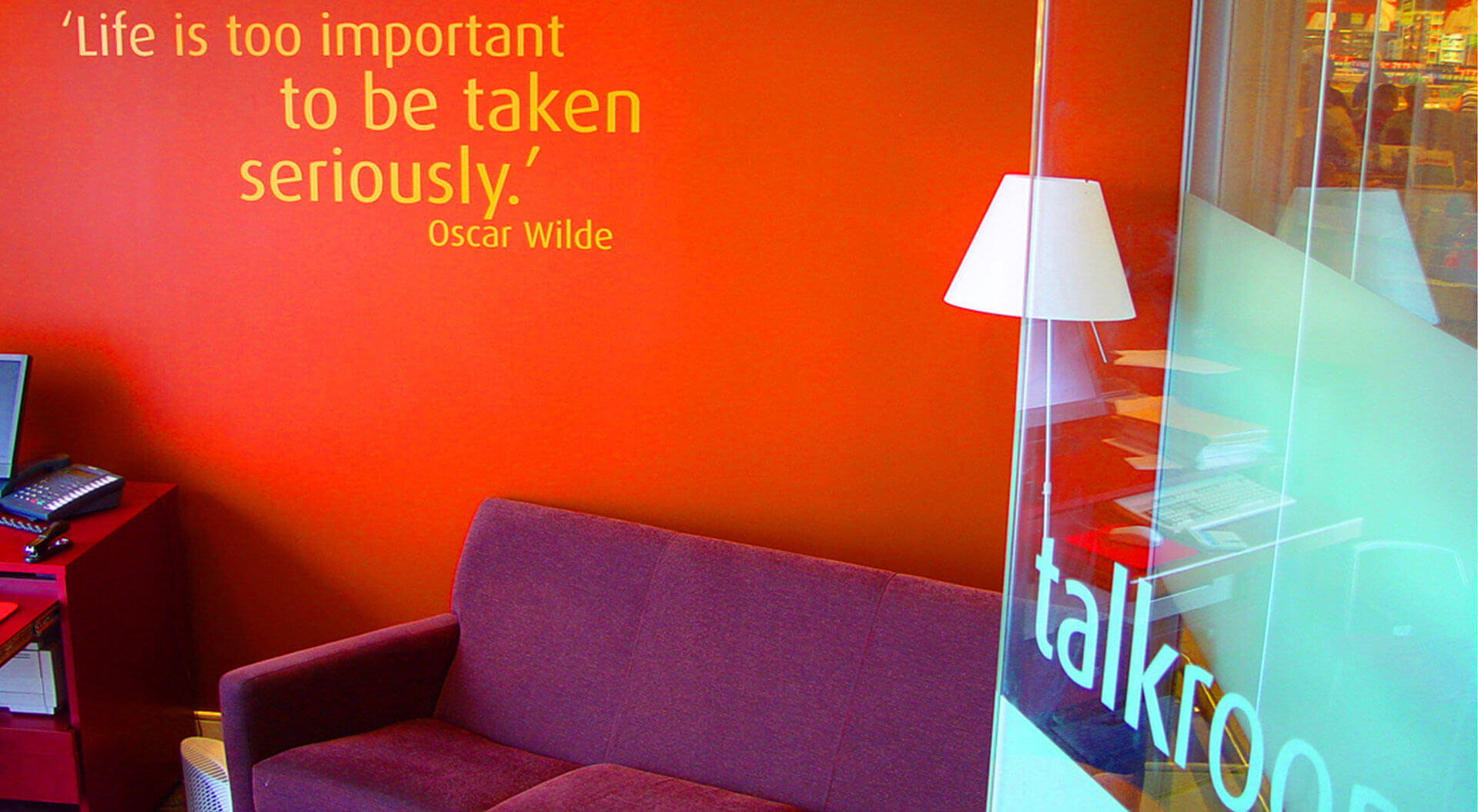 The "talkroom" with a quote from Oscar Wilde. " Life is too importantant to be taken seriously."
Mini bank ATM design and branding.