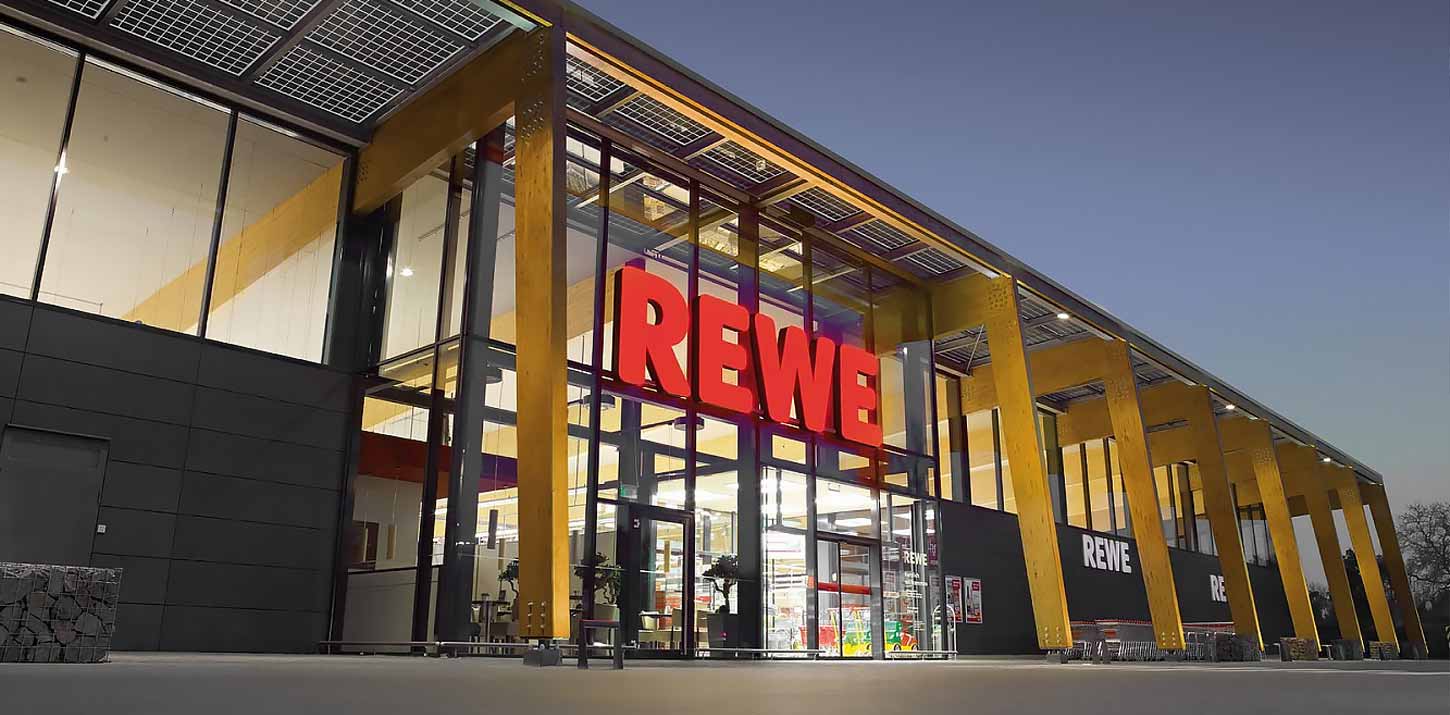 The supermarket sector has been somewhat static over the past couple of years, with little of the groundbreaking innovation since the beginning of the 2000s.
So it is very refreshing to see REWE in Germany injecting some passion into supermarket design with what we think is a vibrant supermarket concept. The store design is in stark contrast to other German supermarket brands, in terms of branding, communication, store layout and design.
The REWE outlet in Weil am Rhein-Haltingen (pictured below) is a good indicator of design changes made by REWE to its food departments and store brand environments.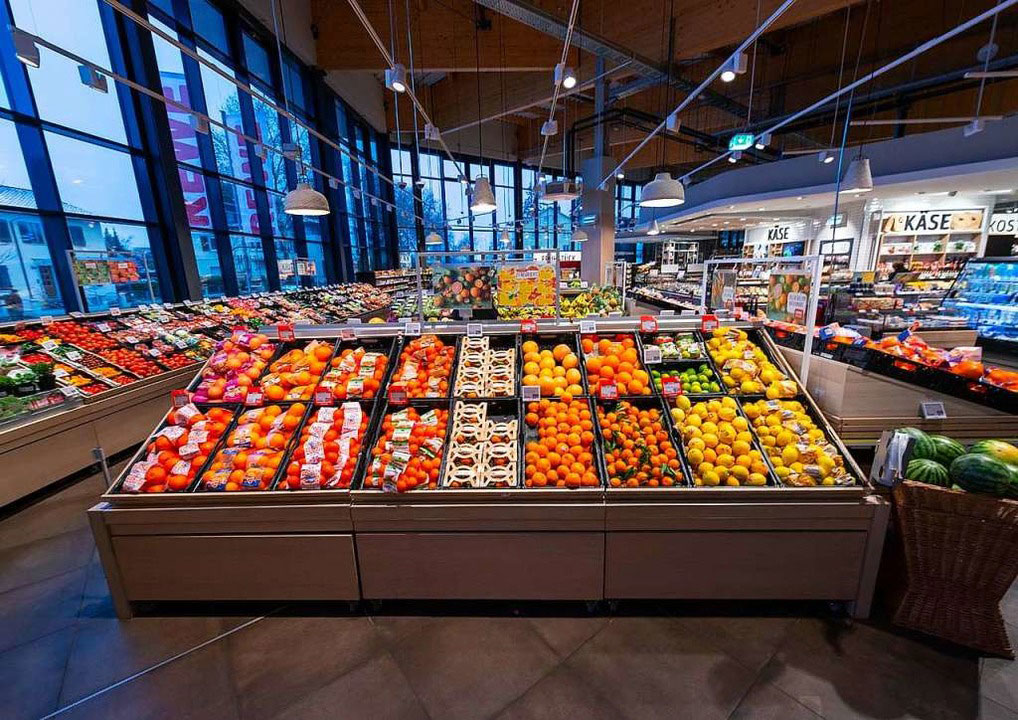 Modern grocery convenience stores, supermarkets and Hypermarkets must achieve more than just offer quality fresh products in utilitarian facilities of a Lidl or Aldi. The Weil am Rhein-Haltingen supermarket presents a world of products like those at a farmers' market. The 2020 store concept seeks to prick the customers' emotions with a brand environment that stimulates the senses.
To understand how the next generation of supermarkets will look, you should ask customers for their thoughts on the subject. How do they want to shop? Or to put it another way: How important is a fresh food, health and well-being and the convenience of a cutting edge technology of an instore app and a cashless payment system?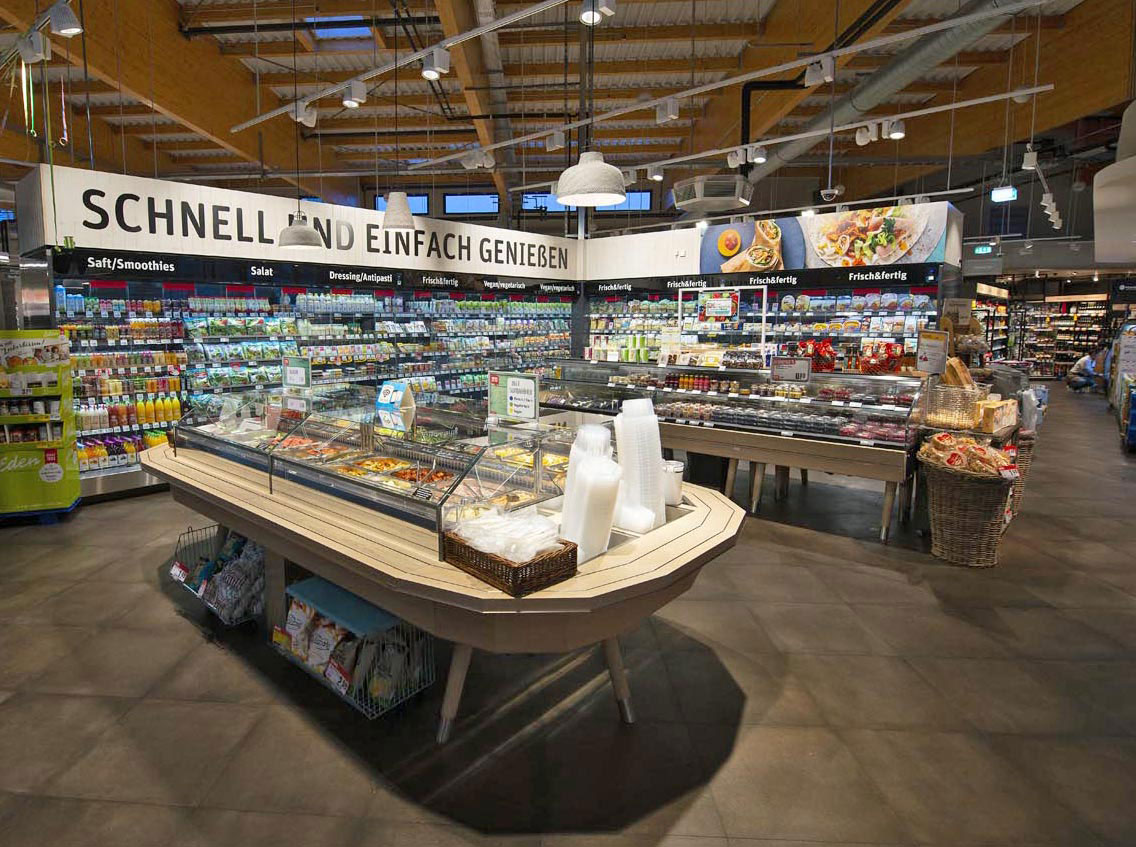 Are they primarily interested in quickly buying what are often the same products they use every day? Or do they view shopping from an emotional point of view, as a journey through fresh, freshly prepared instore and curated product stories offering surprise and inspiration time and time again? REWE asked its customers what they want from their grocery retailer. Customers like well-structured stores where they can quickly find what they came to buy. The brand and store-environment should be visually appealing, well-merchandised to stimulate customers to impulse purchase and above all, they want a store design with contemporary attributes, convenience with a focus on fresh produce and freshly prepared instore foods.
As soon as a customer enters the store at Weil am Rhein-Haltingen, they think they are at a farmers' market. The store is brimming with quality fresh fruit and vegetables. There are regional and exotic products from countries around the world. Lavishly displayed on multi-levelled shelving, bathed in warm light produced by decorative lighting techniques.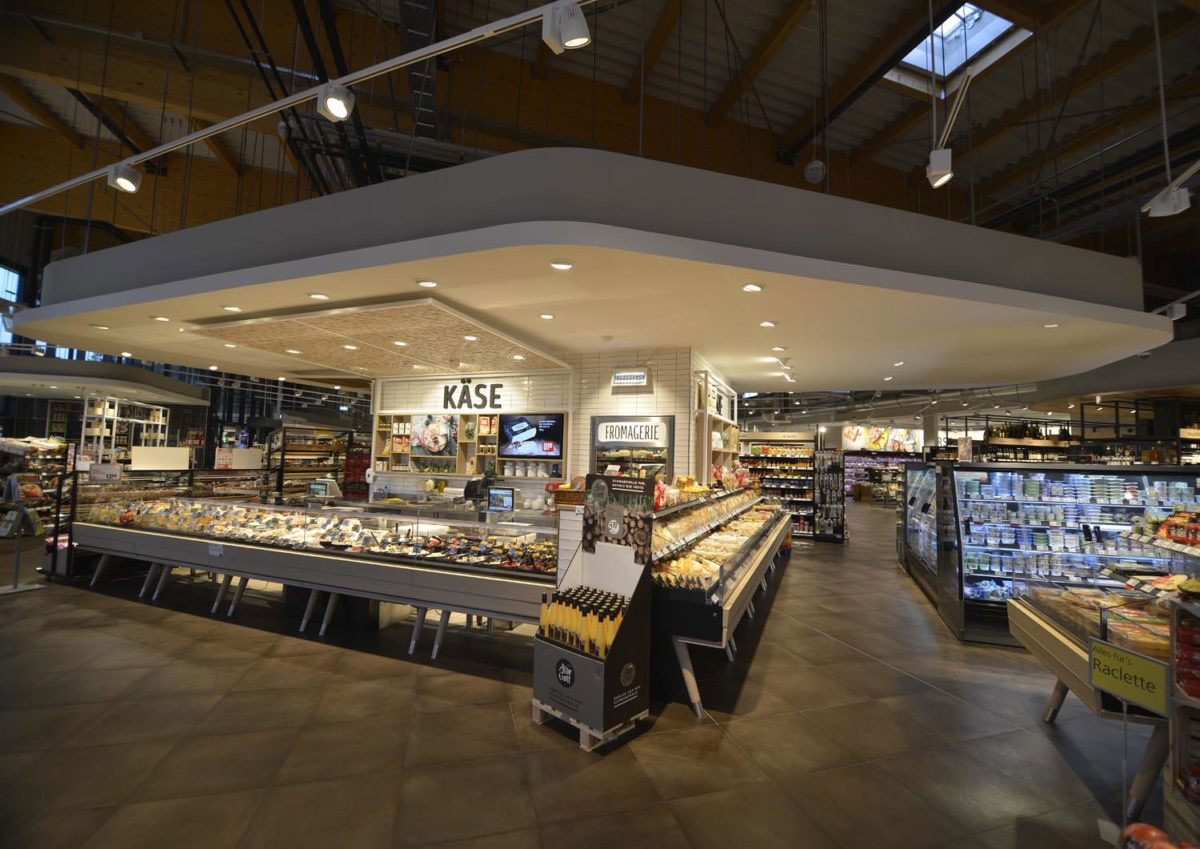 Large department signs on the walls provide excellent instore wayfinding and navigation above shelves leading customers to the products they are looking for. At the service counters, employees provide advice for delicatessen meat specialities, butcher, baker, premium cheese and fish from fresh counters.
And if you are hungry and need a bite to eat, you have two choices: The baker at the front of the store offers a large array of freshly prepared snacks and a wide range of premium coffees. At the deli, you will find the store's gastronomy section. Customers can quickly find something delicious to eat instore. This is also a place where you can relax and savour your food in an open, contemporary setting - with benches, stools and easy chairs for customers who have some time on their hands.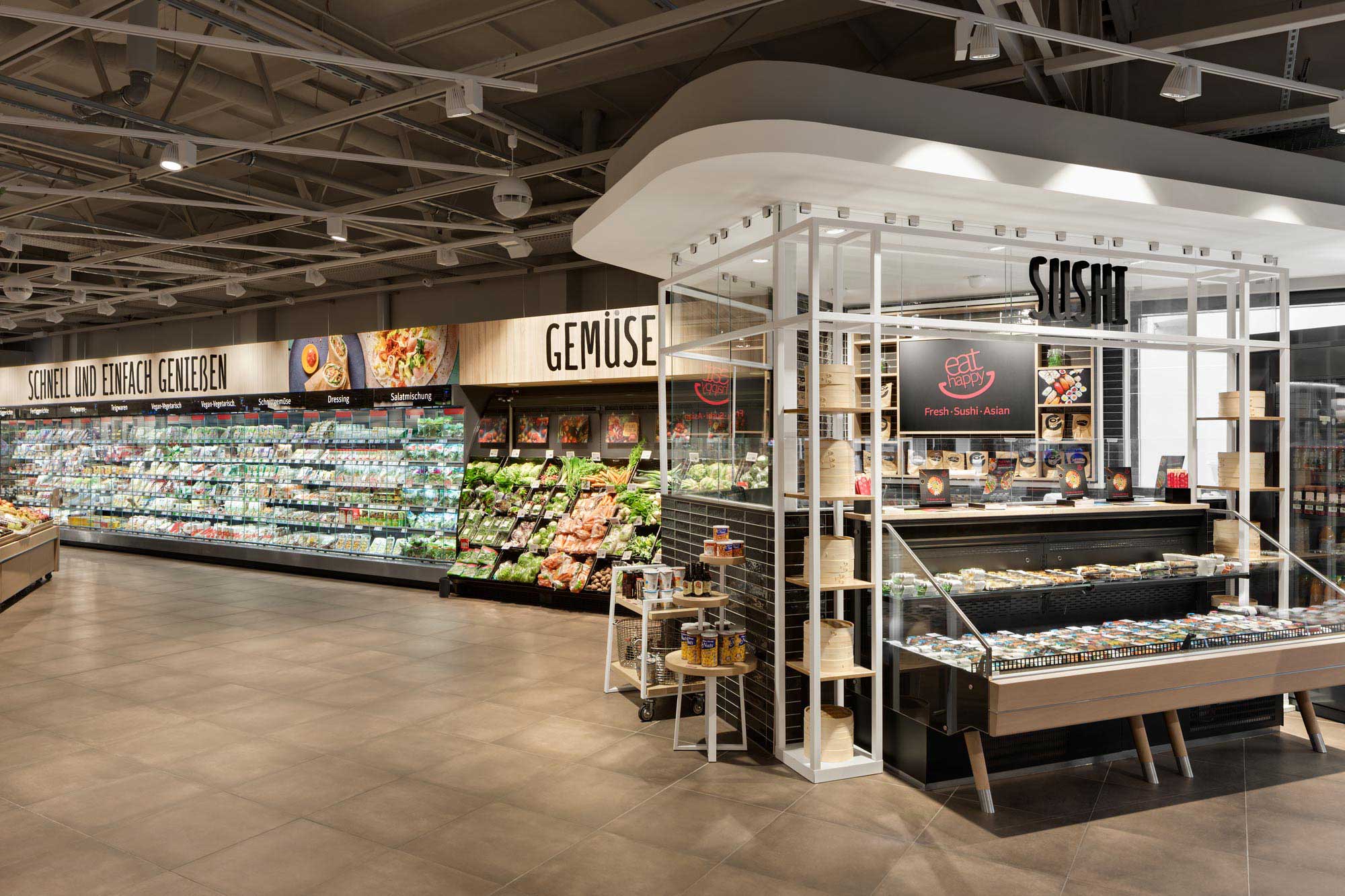 Our internal process of renewal, allows us to continually benchmark and write about the best in class branding and design in many market sectors across the globe. The images in this article have been taken from the web and are attributed to other brand consultants.
Please take a moment to review other news items linked to this page.
Why not call and talk to us about your brand, design or change programme, digital and social media requirements.