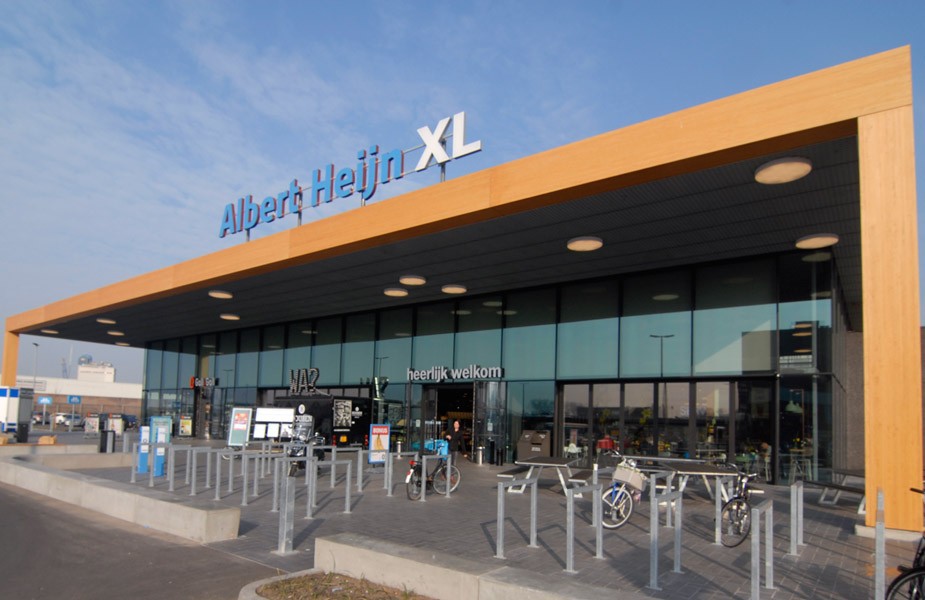 When Albert Heijn XL opened its doors in Eindhoven, we saw a completely renewed retail hypermarket brand concept, full of technological innovations. The XL is a big megastore with a world of food, colour, theatre and smell. It is lively and fully focused on the experience, where the product is the hero with an implied promise. "I will take you to the world of new food shopping".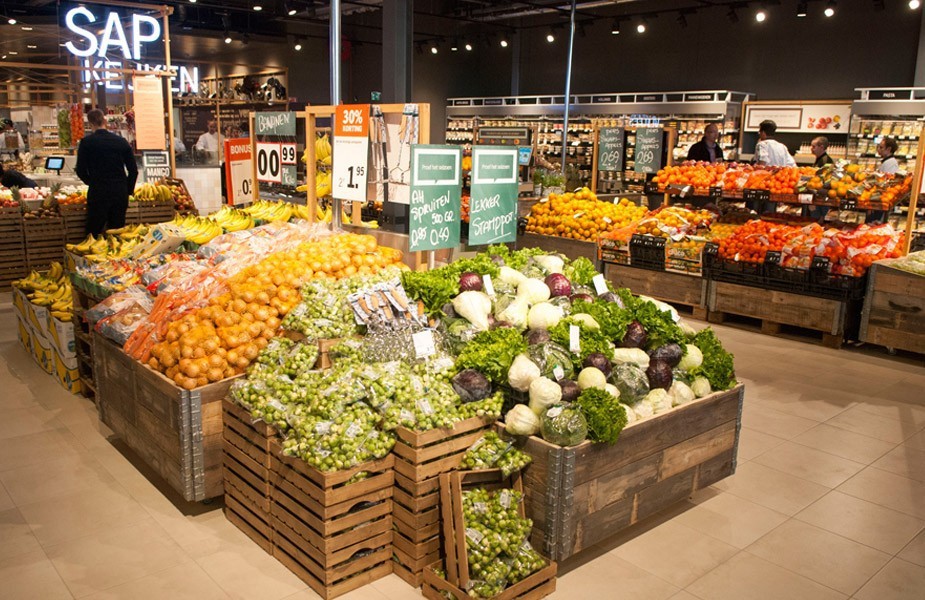 Freshness and experience are central themes.
"Welcome" sits above the big doors of the Eindhoven store. A large industrial building with a glass facade which leaves room for masses of people to enter every day. Upon entering you are flooded with the smell from the preparation of many fresh food products, offered as a large market square. The space is huge and more importantly, it's a good feeling to shop here. When you walk in the XL, you first come to a large fresh square with a huge selection of fresh vegetables and fruits. AH's shop offers chefs every day to prepare meals and give advice on recipes. There is also a pizzeria, salad bar, bakery and sushi chefs who prepare fresh sushi on site. Experience and freshness are central retail strategies for the design.
If you are interested in a similar store concept, produced by our brand agency a few years before the opening of the Eindhoven store. Please go to Safeway Megastore in the "Projects Food Section" of this website.
The most significant development in grocery retailing in the Netherlands in 2016-17 is the continued growing strength of the two leading players, Albert Heijn and Jumbo Supermarkten. Both companies have managed to stave off the challenge posed by competitors through strong outlet expansion. Albert Heijn has added 80 outlets to its already large network of supermarkets since 2011, while also growing the presence of its popular AH-to-Go convenience store banner in city centres and train stations (for more information about the AH-to-Go convenience retail brand, please read the article posted 24.12.2016 in the news section of this website).
Our internal process of design renewal allows us to continually benchmark and publish the best in class food supermarket retail store design trends in many markets across the globe. Please take a moment to review the "projects - food" section of this website to see our work as well as other news items linked to this page.
Why not call us and talk about your brand strategy, design renewal programme, digital and social media requirements.