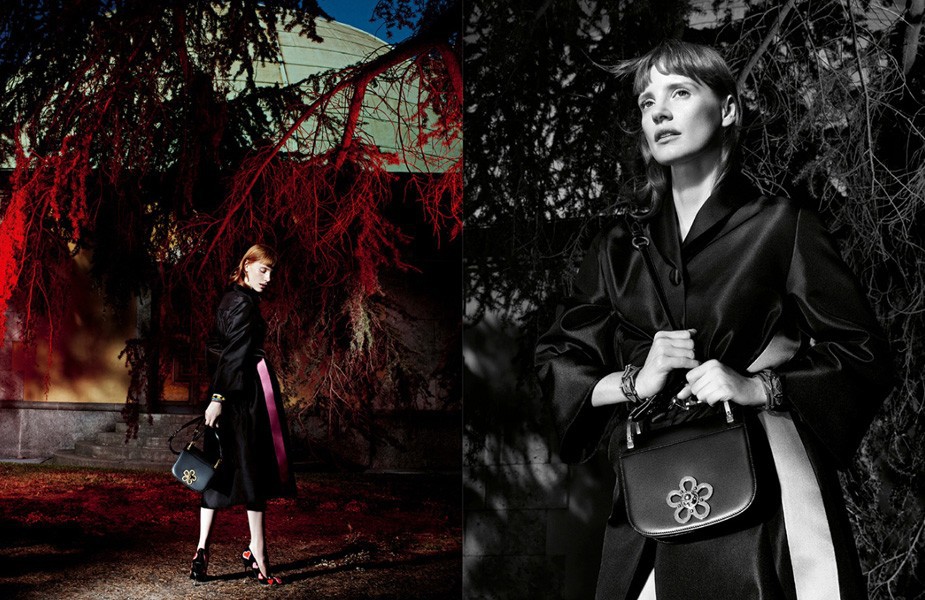 When a luxury spirits industry client briefed us on their brand strategy, they asked that we research creative ideas and trends in fashion branding and design. In a previous article, we chose to look at Mario Testino who worked with the retail brand Michael Kors. During our research we came across another fashion photographer, Willy Vanderperre who has been working with luxury brand Prada and the world's largest apparel retailer Inditex, best known for its fashion brand Zara.
Miuccia Prada is the co-chief executive officer and lead creative director of the Italian handbag and fashion label Prada and the founder of its subsidiary Miu Miu, where the name of the collection is taken from her nickname and now shows in Paris. It has also become a powerful brand in its own right.
When Willy Vanderperre was unveiled as Miuccia Prada's latest photographer, he was cast with the actress Jessica Chastain who stars as the face of the brand's new Resort 2017 campaign as she travels around the city of Milan in a series of cinematic images.
Instead of representing a singular idea through imagery for an entire seasons campaign, Miuccia Prada's brand strategy utilises multiple narratives of a shifting and the equally multi-dimensional world. Not one corporate brand story for the campaign, but many.
The Spring/Summer 2017 campaign showcases five separate visual identities, the Prada realities: Pathways, Frontiers, Stations, Exits and Terrains. Models Saskia de Brauw, Nimue Smit, Jing Wen, Amanda Murphy and a whole host of others were cast for the campaign were set in various locations and split into different themes.
Willy Vanderperre and Prada break through the creative clutter in Fashion Advertising with stunning imagery utilising FOUR KEY elements. Prada fashion, Jessica Chastain, black and white and colour photography shot in Milan.
It seems the iconic Italian fashion house is headed in a new direction with the appointment of the Belgium born photographer.
Our internal process of renewal, allows us to continually benchmark and write about the best in class retail trends in many market sectors across the globe. Please take a moment to review other news items linked to this page.
Why not call us and talk about your retail brands or store design renewal programme, digital and social media requirements.