Walk into some bank branches today and you might think you wandered, by mistake, into a Capital One café where management has deliberately chosen to strip out tellers and cash handling facilities.
At Umpqua Bank in Portland Oregon, to attract the public into their "branches" on the high street, you will find yoga classes with customers stretching on multi-coloured yoga mats practising downward-facing-dog, with t-shirt clad employees who don't care if you hang out there all day. It is a "branch-as-community-hub" idea, you can surf the internet, have organic coffee, fresh juice, attend yoga classes whilst the bank engages in brand-building relationships with the community.

As the focus shifts to the customer experience, branches have gotten smaller. Now they are more about brand building and establishing trust. In many cases, customers still want to talk to a representative in person, but as Campbell Rigg explained, it's about having personal financial conversations with a bank brand ambassador on the customers' terms.
Welcome to the bank branch of the future. Branches are now more about being there for customers when they need financial advice. We believe this is where the biggest transformation will take place. "It's about banks making themselves more available to customers in the way they want to interact with existing and potential customers. In the recent past, some banks have recast their tellers as "relationship managers" who help customers navigate smart ATMs or instruct how to deposit a check via their smartphones, facilitate loans, mortgages, pensions and investments.
Such experimentation comes as banks face unprecedented threats from seemingly unrelated industries. In China, e-commerce platform giants, Alibaba and JD.com have utilised their cutting edge technology, moving into cashless supermarket retailing and banking with apps like Alipay and Dolfin.
The lure for the tech giants is not so much the business itself as the deep data the companies could accrue by tracking consumers' spending.
There is a case to be made in fact that there is no reason for a bank branch to even exist anymore since consumers can conduct most of their business via ATMs and even execute more complex transactions, like apply for a loan or a mortgage, via videoconferencing. The abundance of digital-only banks like Monzo, Chime and Starling Bank prove that such a business model is viable.
But industry analysts say that the bank branch isn't going anywhere. It will just become smaller and more digitally focused as employees become more like financial coaches than traditional tellers and managers. So that begs the question of which direction should branch design take, a Community hub or a Doctors surgery?
Technology is another factor. In 2018, check cashing has been automated and consumers use cash a lot less, so they have less reason to visit a branch or ATM, much less interact with a teller.
The older more affluent consumers and small business owners prefer the human touch. But that's not the only reason that bank branches persist. The average consumer, even Generation Y, prefers to talk face to face to a bank brand ambassador when disclosing personal information to get a loan or to resolve a problem.
"Consumers of financial products want to utilise the facilities of the branch when seeking advice about complicated bank products," Campbell Rigg said. "If they want to open an account, have questions about transactions or if anything goes wrong, consumers want a friendly face to discuss a resolution to their problems."
At the Royal Bank of Scotland, the chief executive has ruled out further branch closures, arguing that having closed approximately 573 branches in the last few years, "the group's 800-strong UK network is about the right size and shape to meet the needs of our customers".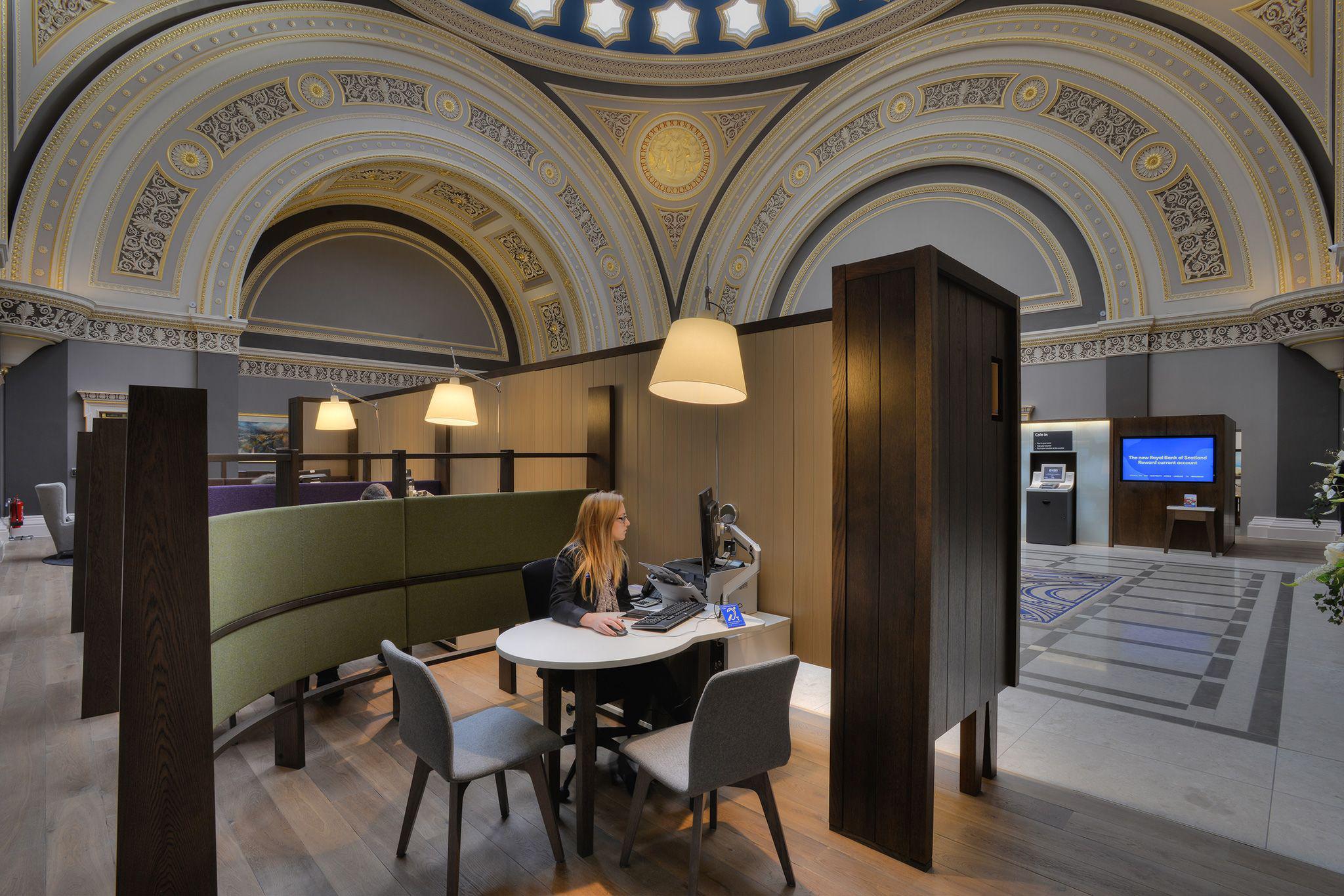 The goal now is to remove barriers for customers to talk about their finances, to go beyond the transactional side of banking to those moments where life planning and money meet the ever-changing needs of the customer marketplace.
The bank has also been increasingly marrying its branch concept with digital technology, such as "interactive walls, smart ATM's and iPads" offering details on new products and services.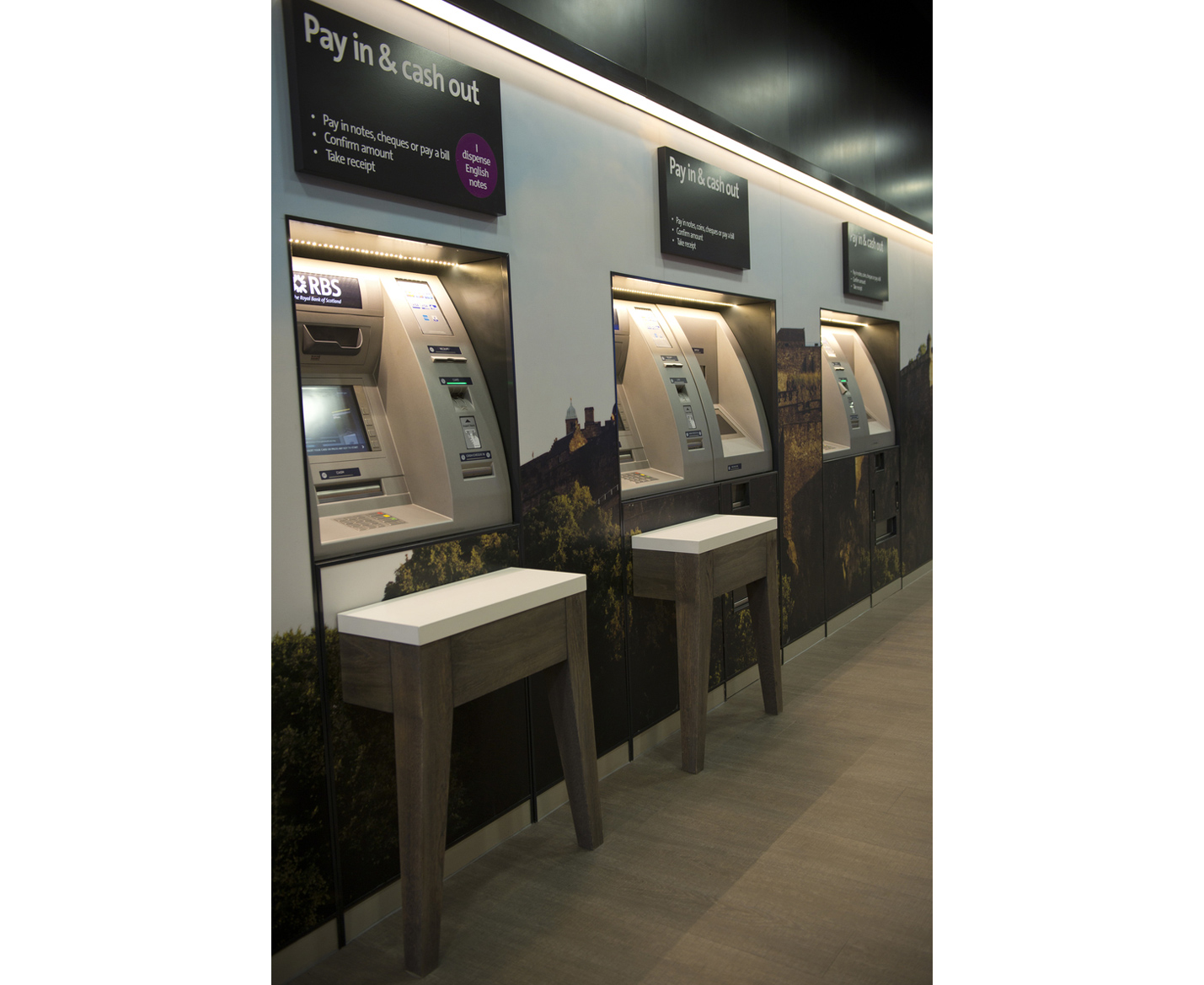 The transformation in customer behaviour has forced banks to take a closer look at their retail outlets.
Recent developments suggest that at least some bank brands are following an Umpqua-like model in more populace areas of countries where they operate.
This approach offers the services that customers want in a modern and flexible environment, combining the latest in interactive digital technology with trusted personal service provided by expert financial advisors.
But just what is the right size and format configuration for a branch as we move deeper into the digital era?
The format development and branding of DBS's, Malaysia's largest financial institution, most recent branch design may give a clue as to a possible direction of travel for a small format variant. No teller transactions internally, except in the secure ATM lobby. The internal areas are dedicated to coffee, internet surfing and consultation with a brand ambassador. Please see the image above and below.

Some experts believe it is in the banks' own interests to keep branches open as it still represents one of the leading sales channels.
Despite the growth of digital services, it seems there is still a strong appetite among the public for the personal touch in banking.
Our internal process of renewal, allows us to continually benchmark and write about the best in class branding and design in many market sectors across the globe. The images in this article have been taken from the web of Capital One, Umpqua Bank Oregon, Royal Bank of Scotland and DBS bank Singapore. The above images are attributed to other consultants.
Please take a moment to review other news items linked to this page.

Why not call and talk to us about your brand, design or change programme, digital and social media requirements.