Fashion brands, particularly legacy houses such as Dior, have been notably late to the game in terms of embracing digital and coming up with innovative influencer marketing methods, which is why their efforts can feel in-your-face and inorganic.
There's a different level of sophistication around influencer marketing by a market and by a region of the world. When we look at Europe versus the U.S. in particular, the U.S. is a very mature market as it relates to influencer marketing, and most of the brands who are based in the U.S. have worked out a lot of this nuance and understand what's going to feel authentic in-feed. "In order for influencer marketing to be effective, you want it to feel authentic, as opposed to feeling like a carefully orchestrated and meticulously timed campaign."
As fashion and beauty brands continue to struggle with creative ways to keep themselves relevant, the attention Dior's drummed up about the Saddle Bag will likely prove to be a win for the French house in the long run — although this particular product could turn out to be a flash in the pan. There is a very short window between when something seems trendy and cool and when it's completely played-out. "There's always some fashion item, jewellery item or 'look' on Instagram that every influencer gets, it's really hot and then you're kind of like, 'Okay, I'm bored, I've seen this one million times.'"
Though the Saddle Bag relaunch was clearly well-planned and highly visible, Fierro notes that the lack of both disclosures and diversity in the campaign were striking, making it feel very one-note and irrelevant from a marketer's perspective. Plus, the inclusion of mainly international mega-influencers (as opposed to niche micro-influencers) can have mixed results. A lot of fashion influencers look the same, dress the same, all will have the same bag at the 'right' time, and while there is something about wanting to fit in with those people, a lot of more influential influencers are overlooked.
While the most discerning luxury shoppers might see this sort of major Instagram "moment" as a turn-off, the next generation of fashion enthusiasts who are discovering logos for the first time highly value this sort of visibility on Instagram. Another prime example of a legacy house going nostalgia-wild lately is Fendi, which has reintroduced its classic double-F Zucca print in recent runway collections, making vintage versions highly covetable. In addition, the biggest influencers of them all, Kendall Jenner, the Hadid sisters and, most recently, Kim Kardashian West, have starred in ad campaigns for the Italian brand, bringing Fendi back into both the industry and pop culture conversations in a way they haven't been for quite some time.
"For the younger consumer, [these campaigns are] driving the desire for Dior or Fendi as a place to go for that gateway luxury purchase," Fierro says. "You have the opportunity to reach a new wave of consumers— presumably a younger wave of consumers that didn't necessarily have awareness of the Saddle Bag the first go-round."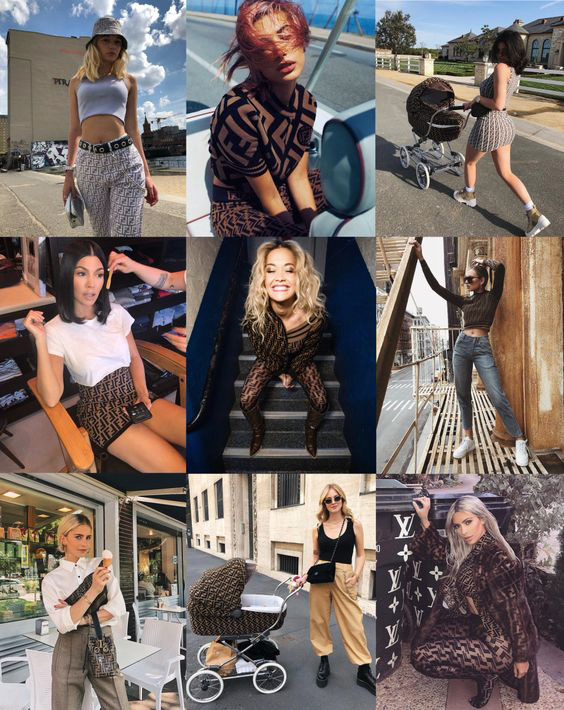 This news article has been taken from a segment of a Fashionista.com news article and is attributed to Alyssa Vingan Klein. We trust it proved an interesting read if you wish to read the entire article visit https://fashionista.com/2018/07/instagram-influencer-marketing-brand-gifting-backlash.
Our internal process of renewal, allows us to continually benchmark and write about the best in class retail trends in many market sectors across the globe. The images contained in this article have taken from the web and are credited to others and not related to Campbell Rigg. Please take a moment to review other news items linked to this page.
Why not call and talk to us about your bank brand, design or refurbishment programme, branding, digital and social media requirements.